Oncology Pharmacist: A Day in the Life
With so many career options available to pharmacists after graduation, the "Day in the Life" series is meant to provide you with insights into what it's like to be a pharmacist in various areas so that you can pursue what's right for you!
With so many career options available to pharmacists after graduation, the "Day in the Life" series is meant to provide you with insights into what it's like to be a pharmacist in various areas so that you can pursue what's right for you!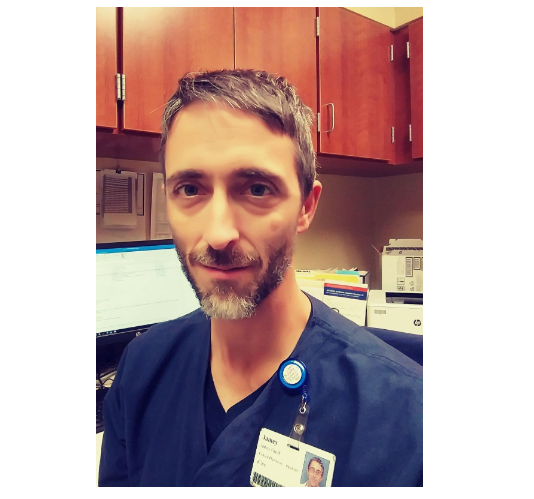 Questions #1-11 cover topics related to a day in the life of a clinical pharmacist working in oncology.
1. Tell us a bit about your background (school, training, etc…)
My undergraduate BS degree was in Biology which I finished in 1998.  At that time I strongly considered enrolling in a new PA program at James Madison University, but instead began working as an environmental scientist for Merck  & Co., Inc.  This involved a lot of pilot scale compliance testing as well as field analytical testing.  In some ways, it was a fascinating, stimulating job. I stayed there for 8 years, but ultimately the time spent in the lab proved to be too socially isolating and I began to consider applying to PA school once again.  However, due to a chance encounter with an acquaintance whom I hadn't seen for many years, and who had since become a pharmacist, I began to consider pharmacy as a profession.  Interestingly, I helped get this friend into pharmacy school (by some intense tutoring through a year of organic chemistry while we were both in undergrad), and over 10 years later, she helped get me into pharmacy school (by setting up a visit and interview with the Dean and generally encouraging me to consider the profession).  Eventually, while in my 30s, I took the scary step to quit a stable job and start a PharmD program at Shenandoah University, all while raising a young family.  I chose not to complete a residency because there was a staff pharmacist opportunity at my local hospital, which was where I ultimately wanted to end up.  I started working in central and decentralized roles in 2011, and later accepted a temporary role focused on evidence-based EMR (electronic medical record) order set management.  All along, I staffed intermittently in the cancer center and soon realized that those were my most rewarding days.
2. What are some of the best and worst things about working in oncology?
Cancer, whether terminal, chronic, or curable has an immense impact on the lives of patients and their loved ones.  It's an honor to be a part of the team caring for these patients.  There is ample opportunity for meaningful, ongoing involvement with patients' care.  One thing that always gives me a thrill in my community is seeing someone during or after treatment, outside of the cancer center, enjoying 'normal' activities.  I get to work with an incredibly caring group of teammates and there is a strong culture of going the extra mile for patients.  Patients and families express genuine gratitude (often manifesting as food!).  The difficult flip side to this is that in many people, effective treatments come to an end, or toxicity takes too much of a toll.  While most days are upbeat and positive, there are heart-wrenching situations and difficult days as well.
3. What are the main barriers to entry? (PGY2, oncology fellowships, 3-4 years experience, etc…)
In my case, there were certainly elements of waiting for opportunities and being in the right place at the right time, otherwise I may never have had the opportunity to transition into an clinical oncology position.  A PGY2 residency or fellowship are the most direct route to an oncology role, but unfortunately these positions may not be available to everyone who wants one.  This probably represents the most significant barrier to those hoping to enter the field.
4. Can you provide some background into how you found oncology as your field of interest?
My first real exposure to the field of oncology was during an APPE rotation in the community cancer center where I now work.  It was unlike any practice setting I had seen before.  In contrast to hospital pharmacy, I was immediately drawn to the clinic setting where interactions were mostly in-person with a small group of providers, nurses, and other staff.  I was so impressed by the way my preceptor had built a rapport with providers and colleagues, not to mention the significant opportunities for pharmacist interventions and the meaningful patient interactions.  My preceptor for that rotation became a mentor and ultimately a colleague.
5. What are some of the challenges you face as a pharmacist working in oncology?
See question #7.  It is incredibly challenging to stay current with all of the new approvals and changing treatment guidelines.  If I ever feel like I have a good handle on a particular cancer type, that is a temporary situation as guidelines continue to change and become more involved over time.
6. How can current students or pharmacists best prepare for a career in oncology?
Get as much exposure to the field as early as possible during your pharmacy education. Have early discussions with a faculty advisor about how to best make that happen in terms of rotations or observation experiences.  It's easy to overlook, but maybe most importantly, take steps to become more comfortable talking to patients: there's so much that we can learn from patients that cannot be learned from a package insert or treatment guidelines.  As the saying goes "people don't care how much you know until they know how much you care."
7. How do you keep up with the ever-changing literature and new oncology medications coming to market?
This is a huge challenge.  NCCN guidelines for individual cancer types are all updated numerous times every year, so I try not to assume that I know what is there.  'Research to Practice' produces excellent medical education programs with a hem-onc focus and is a great way to get insights from experts in all specialties. Preparing for and precepting students and residents is always helpful with regard to staying current.  Part of my role includes working with developing new treatment protocols as they are needed as well as doing oral chemotherapy patient teaching.  Both of those responsibilities are 'built-in' ways that help me stay up to date.
8. What are some of the most common questions you are asked on the job?
From providers:  Can you enter/modify this treatment plan?  How can we improve this antiemetic regimen?  Can you let me know how many cycles this makes?  What is this treatment schedule supposed to be?
From other staff:  Is _____ ready yet?  Can you follow up with this patient concern/question/side effect?  What labs do we need to see before starting treatment?
From patients:  I didn't mention this to the doctor but...(proceeds to ask advice about a significant /side effect)
9. What is the biggest impact you think you have on patient care?
It's not exciting, but realistically, one of the most impactful aspects is ensuring that the treatment plan templates are built appropriately.  I'm currently working with a multidisciplinary group to develop a process to ensure quality templates are available for other sites within our health system.  Additionally, pharmacists at my center do initial teaching for oral oncolytic therapy and during these sessions, there are significant opportunities for coordination of baseline tests & labs, supportive care recommendations, and follow up appointments and labs.
10. What are your responsibilities/tasks during a typical workday?
Verifying oncolytic medication, pre-medications and supportive therapy orders, oversee and prospectively check sterile compounding performed by technicians, respond to a wide variety of questions from providers, nursing and other staff, assist providers with entering and modifying treatment plans, manage patients on pharmacy erythropoietin protocol, manage infusion reactions, manage drug inventory, educate patients on both oral and parenteral treatments, etc... Even though it can be tough to get everything done during the day, the variety of different responsibilities is one of my favorite aspects of my role.
11. What are some helpful tips for everyday pharmacists to know about oncology?
An active chemotherapy patient with a fever is an emergency.  Steroids can fix almost anything (while causing other problems).  If a cancer patient is picking up olanzapine, it's probably an antiemetic.
The following questions are meant to be fun and provide some insight into the culture and personality of these professionals!
Dumbledore vs Gandalf, who wins?
I had to get an opinion from my daughter, she confirmed what I thought, which was that Dumbledore is from Harry Potter.  She thinks Dumbledore would win but admits she doesn't know anything about Gandolf.  There's definitely some recency bias there.
2. If 100 physicians fought 100 pharmacists, who would win? (Orthopedic surgeons not included).
Pharmacists.  Because we've sacrificed fewer years from our physical prime being sedentary during school & residencies.
3. Which pharmacy specialty is the best and why (not allowed to pick your own).  
Probably infectious disease, that's who I end up calling for help the most.